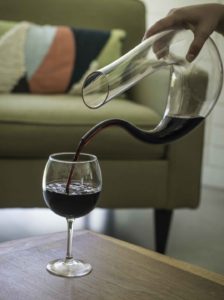 Pair this read with: a glass of Barolo, a northern Italian wine from Piedmont. Barolos are aged for at least two years in oak and one year in the bottle before they are released and available for purchase on the shelves of your local liquor store or grocery shop. You'll be pleasantly surprised by the common tertiary aromas that develop in this wine: tar and roses.
Which Wines to Age and Which Wines to Drink Now
"16 years older than you? Do you feel some sort of difference?" I asked a friend, as she gushed about the new man in her life. "Other than his inability to navigate Snapchat, no. You know, men age like fine wine."
I thought to myself quietly, "Some do, but some don't." As with wine.
Time and time again, friends have asked me if old wine is really good wine. The short answer is: depends on what it was like in its youth. Did it possess the qualities of an ageable wine back then? Over the years, has it been stored in optimal conditions, so as not to disturb the chemical interactions that occur as a wine ages? Even if the answers are "yes" and "yes," you could pop open the ritzy bottle of wine you've painstakingly aged over the past fifteen years and find a liquid that's more suitable for a vinaigrette recipe than for direct consumption. Unpredictable things, those chemical interactions are.
On the other hand, you could pop open the bottle to find a wine so smooth, you would go home with it after a second date. Whereas the wine's high alcohol content used to be slightly abrasive, the alcohol is now so thoroughly integrated into the liquid elixir, that it manifests in the form of weightiness in your wine rather than heat in your throat. Whereas the acidity used to be astringent, the first thing you noticed upon your first sip, it has now blended into the wine, so that each sip contains balanced sugar, acidity, and flavors. Fresh fruit flavors become stewed fruit flavors, and flavors that can only come with age form — magnificent flavors of tar and leather, cinnamon and nutmeg.
To give yourself the best chance of achieving scenario #2, look for the following elements to determine whether or not your wine may be worth aging (and once you've selected wines to age, be sure to follow storage recommendations — coming soon!):
High tannin content. Tannin is what gives your tongue the fuzzy, dried-out feeling you get when drinking red wine. It contributes to the body and mouthfeel of a red wine and slowly breaks down over time. Wines with sufficient tannin content have a better chance of retaining structure.
Generous levels of acidity. Acid makes your mouth water; I don't eat or drink anything that doesn't. Acidity slows the oxidation of wine and helps it maintain its aromas and flavors.
Substantial sugars. Sugar is not a requirement, but aging a sweet wine is a safer bet than aging a dry wine. Sugar is a natural preservative and helps prevent spoilage in wine. Tokaji, Ports, Sherries…feel free to stock up on these for retirement.
Whether or not I eventually age like fine wine, I plan on drinking lots of it.