Sip & Sails are our flagship events! Matter Of Wine hosts Sip & Sails that are open to the public once a month, from March to November. Private Sip & Sails, on the other hand, are available for bookings year-round!
What is a MOW Sip & Sail?
We are not your average cruise ship wine tasting!
A MOW Sip & Sail is an intimate 10-person sail on a luxury 40-foot catamaran captained by a local skipper around the scenic Marina Del Rey harbor. For us to always taste wines that are most relevant to you, our event is BYOW, — we ask that each attendee please bring (1) bottle of any wine to share with the group. Utilizing these bottles, our Wine Educator, Murphy, will kick off our sail with an hour-long workshop on how to see, smell, and taste wine, as well as pick out the aromas and flavors in your glass. Murphy will also equip you with the knowledge of how to determine the balance, length, intensity, and complexity of your wine, allowing you to systematically evaluate its quality.
After our wine tasting workshop, grab a glass of your favorite wine and venture up to the roof or deck of the catamaran. Take in the views from the multihull nets until we dock.
*Public Sip & Sails are 2 hours long. Our catamaran may dock up to 10 minutes past the listed end time, depending on the wind
*Complimentary individually-packaged snacks
*Professional photographer
*Parking information will be communicated to invited guests
*Bring instruments, games, and any other activities that float your boat
*Questions? Email murphy@matterofwine.com
*$90/person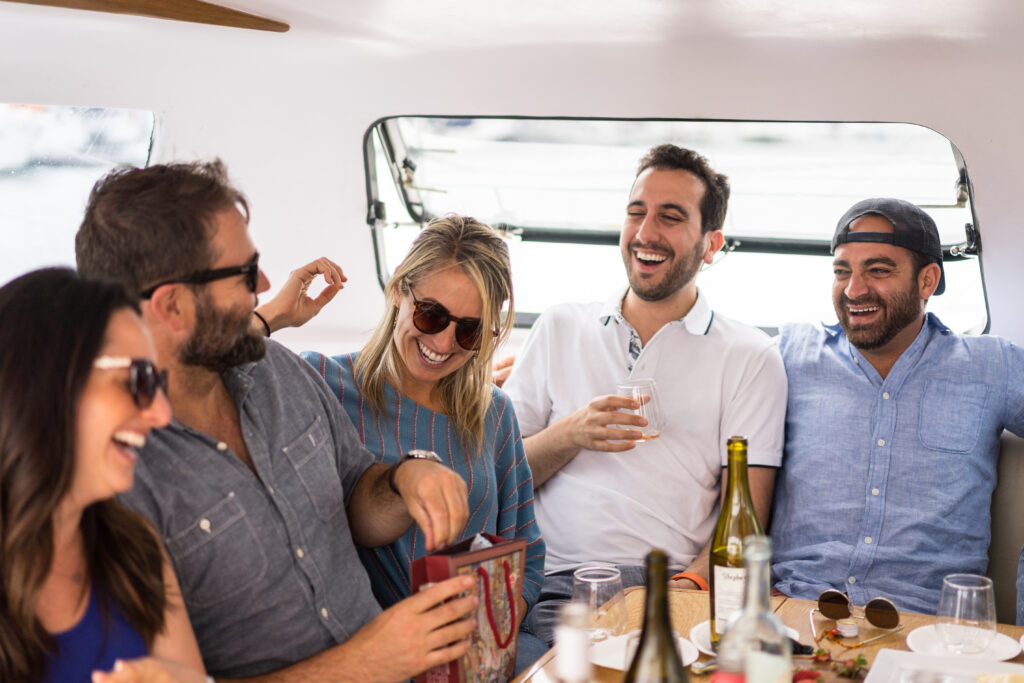 When is the next Sip & Sail? Do you offer Private Sip & Sails?
Our next public Sip & Sail will be in March of 2022! Check back in February 2022 for time & date.
Can't wait that long for a sail? No problem, private sails are available all year! Email murphy@matterofwine.com to inquire about booking a private sail.
Our private sails are just a little different from our public sails. Private experiences are 3 hours long, and do not include individually packaged snacks. However, you are free to bring whatever ready-made foods you'd like to enjoy onto our vessels!